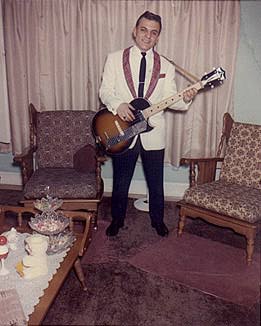 Who knew? The guy I know as Joe "Ronnie" Sando – A Pennsylvania State Constable who drops by to visit every once in awhile – had a former life as a 50's rockabilly star. Here is the story: at age 16, Joe wrote the song "Rocking on the Moon" but he did not record it until he left the Army several years later. The strange thing is that although the song did not chart in the US, it found its way to the Soviet-dominated Eastern Block countries because it contained a reference to the Soviet Sputnik satellite. The song took off in the most unlikely of places (Yugoslavia, for instance) but Joe never knew about it. He continued to perform and record with various other rockabilly stars like the Jordanaires (Elvis Presley's backup singers) for a number of years until he settled down to take care of his son who was severely injured in a motorcycle accident.
Fast forward to 2005. Joe receives a call from a guy in Europe who wants an interview the man behind the recording "Rocking on the Moon". All of a sudden, Joe realizes that he is a minor star in Europe (the song is a popular ringtone in Norway – go figure) and one of the last performers still around from the golden age of rockabilly. As I am writing this, Joe is actually considering a tour of Europe - he has had offers. Who knew the tough-as-nails Constable I know is actually a rockabilly star in Europe and an inductee in the
Rockabilly Hall of Fame
?